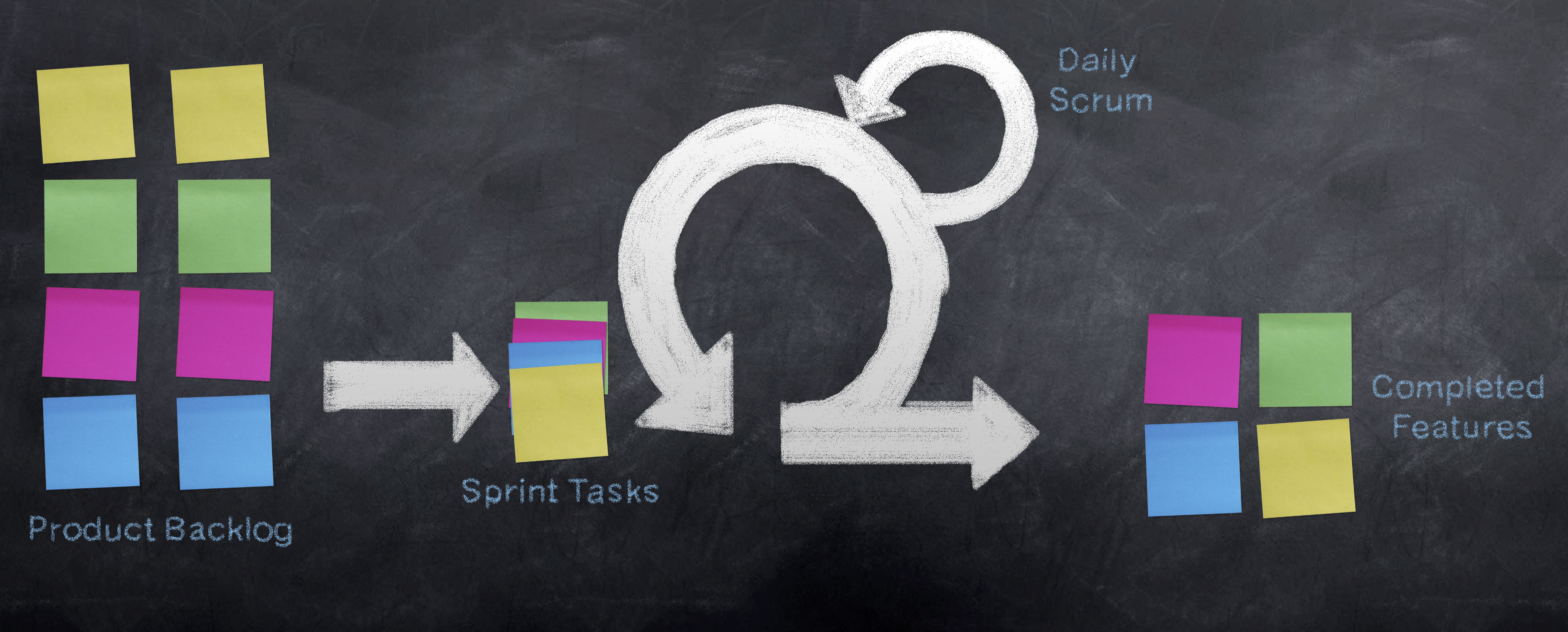 Scrum as in an agile framework for managing projects. It was developed by Jeff Sutherland in 1993 and can be deceptively simple when first explained, but therein lies the brilliance. It was originally used only for software projects, yet now is entering into any complex scope of work and I find it to be a fantastic way to manage a project! Being a certified Scrum Master does influence me a bit, but it really is a great way to get things done and is the leading agile methodology used by Fortune 500 companies around the world.
Here is the super simple sum up of the Scrum framework:
The product owner creates a prioritized list called a product backlog.
During sprint planning, the team pulls a chunk from the top of that list, a sprint backlog, and decides how to implement it.
The team has a certain amount of time, which is called a sprint, that usually lasts for one to two weeks to get this work done. A very important part of this is the daily Scrum meetings which are short and to the point. Each member speaks and shares what they did yesterday, what they are doing today and what if anything is holding them back or they need help with. It really is that simple – and has to stay that simple in order for it to work.
The Scrum Master who keeps all of this glued together (and really is the facilitator of the group) keeps the team focused on its goal and removes any stumbling blocks.
Here is the key to this:  at the end of the sprint, the work done should be potentially shippable, meaning truly ready to give to a customer, put on a store shelf, or shown to a stakeholder. Every sprint needs to produce shippable work.
This sprint ends with a sprint review and retrospective.
Next, a new sprint begins and the team chooses another piece of the product backlog and starts working again.
This method does sound basic, but it can be very hard for people to stick to. You can see there is no room for meandering in a plan like this, and for some that is a really different way to do things.
I suggest finding a Scrum Master who really knows what they are doing and run a small test on a project through this process. See how it goes! You may find out that your team thinks it's awesome!
Danielle VanZorn, PMP, SPHR